Most landlords and property managers are well aware that tenant and rental laws vary state by state, and even city by city. California is especially well-known for having specific regulations for tenant screening services. As always, we highly recommend consulting with your own legal counsel when you're considering a California rental. In this post, we'll outline some important information for you, as well. We encourage doing your own research and familiarizing yourself with your area's regulations.
What are tenant screening services?
First, let's go over what tenant screening services are. These services are any available screenings that give you information about prospective tenants so you can make a better decision about who to place in your properties. They may include credit reports, background checks, criminal history, eviction history, employment history, and similar information. With these details, you can make an informed decision about the sort of person you'll be placing in your rental. Screening reports help landlords verify details on rental applications and ensure a potential tenant can afford rental costs.
In California, there are certain regulations to be aware of in relation to these tenant screening services. The amount you charge for an application fee should not exceed your own out-of-pocket expenses, and it should never exceed $49.50. This is to prevent landlords from overcharging applicants and pocketing the extra. Also, if you request a credit check, be aware that you are required to provide a copy of the report to your tenant if they ask for it.
Reports Paid by the Applicant
When selecting a screening service, consider what your own expenses will be and whether you'd like to charge that expense to the tenant as an application fee. Some services, such as our own here at Tenant Screening Center, Inc., offer specific programs that charge a reasonable fee for a variety of reports. These reports are paid for by the applicant directly and can be accessed through an online portal. This makes the entire process very convenient for all involved parties. Landlords don't have to worry about reimbursement or keeping everything in the office, and applicants can apply from wherever's most convenient for them.
Most importantly, it's necessary to be familiar with your responsibilities as a landlord or property manager and stay on top of any changes to local rental law. Have your attorney review all of the documents and rental agreements you're using to make sure they're all written according to the law and will keep you and your business protected. In order to run a background check on a prospective renter, you must have their signed consent. Consider whether you'll refund the application deposit, and if not, note clearly in the application that the fee is non-refundable.
It's a good idea to consider which screening service you'll use, how much you believe the tenants in your area will spend on an application fee, and which reports will be most valuable to you. From there, you can determine which service is the best fit for your needs.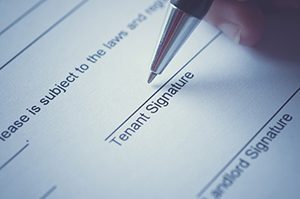 We recommend our RentalConnect program, which offers property owners and landlords a great alternative to the expense of full tenant screening. This service requires no on-site visit, sign-up, or membership fees, making it extra convenient. The service fee is paid by the applicant. Available 24/7, RentalConnect is fast, easy, secure, and delivers reports needed to make an informed decision, including a credit report, a national criminal search, and a national eviction search. Reach out to us for more details!
Landlords
Property Managers
Contact TSCI